Isn't it great how Corvettes always find a new way to give you a little bit more to work on just as you think things are getting sorted? My fun this time turns out to be an electrical gremlin lurking somewhere. Symptoms go a little something like this:
Turn the key and seat belt waring light/stereo comes on, turn it again to start it and hear a loud click like the solenoid trying to engage the starter but then nothing. No power to anything.
Turn everything off and then try again, car starts. Move it outside the garage and it stalls (too cold and not warmed up yet) while I close the garage door. Try to start it again and same result as the first point.
Do the off and on thing again but no power at all. No lights, accessories, nothing. Push car back into garage.
Try again a few hours later and still nothing
Now it's done this once before a few years back but I just thought at the time it was the masses of oil covering the solenoid as after a good working over with degreaser all came good when I turned the key the next time. No leaking oil any more so there's that theory blown.
So at this point I check a few things:
Battery is nicely charged
Ground lead at battery is good. Clean up the contact between it and the frame just in case.
Hot strap from battery to starter solenoid looks good and has 12v on it
Hot lead from starter to Alt has 12v on it
Hot lead from starter to power dist block on firewall has 12v on it. No worry about fusible link as find it's been replaced with a normal wire lead instead!
Dropped out and bypassed the starter and eliminated the alt just in case they were causing issues. Still no power run anything in the car, not even lights, but still 12v at the dist block
And then it just got weird as I checked things again after disconnecting the battery via the quick disconnect on the earth lead. Checked at the power distribution block and multimeter showed it still had 5v on it but was dropping off slowly.
This is with the starter and alt completely disconnected. All I can think of is that something under the dash has turned into a capacitor and is taking/grounding the charge from the battery before it can power anything. Next steps are working through the hot power dist junction connections(below) to see where the mystery voltage is coming from, checking the fuse box, and eliminating things like the ammeter and stereo as the culprits. At this point any other suggestions are welcome.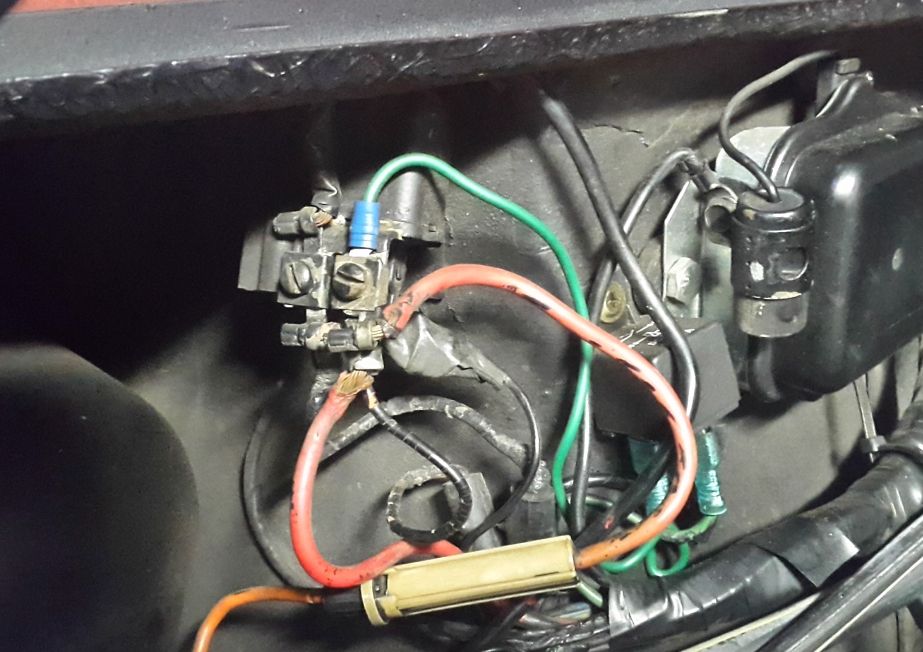 Other thing is I found in taking off the bolt on the solenoid that the copper thread is toast, probably done by me last time I contorted myself to get the bolt back on. Think I'll be seeing if I can find a cheap second hand unit at a wreckers or online to replace or rebuild this.
Add to that finding the power steering pump seemingly leaking from the pulley shaft and the weekend was awesome.