Hi all,
Over the past month or so I've been atttempting now and then to get the '68 tuned so that it's a nice driver, compared to the poor idling, rough cruising, weak accelerating beast that it was when I picked it up. Through a combo of working on it myself and a carb tech taking a crack at it I now have a car with a smooth but fast idle, rough cruise, but brilliant wide open throttle acceleration. Unfortunately I don't think anything can be done with the current setup to make it any better and so am trying to work out my next step. Let me explain.
After doing some decoding I found my Holley 650 DP (list 4777-7) is riding a 69 Z-28 hirise aluminium intake, on top of a 1968 327 block running mid 70's heads. The problem here for me is the hirise intake and my limited underbonnet space.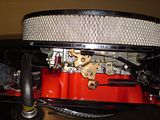 From the pic above you can see the intake adds a few inches to the height that I've seen from pics of standard intakes which led to a hood clearance issue. To counter the lack of hood clearance the previous owner has removed the underhood insulation and added a dropbase air cleaner to try and get the clearance. Even with this the front of the lid of the aircleaner is just touching the hood when closed, as is the nut on top of the cleaner.
The big problem that I saw and the carb guy agreed with is that the actual carb lid is sitting way too close to the top of the choke tower and the vents from the fuel bowls. As a result we believe it's really messing with the airflow into the primaries (the butterflys on the secondaries have been cracked open a touch to allow slightly more airflow to try and counter things). You can get an idea of how close it is in this pic when you compare the heigh tof the threaded rod with the butterflies on the choke tower.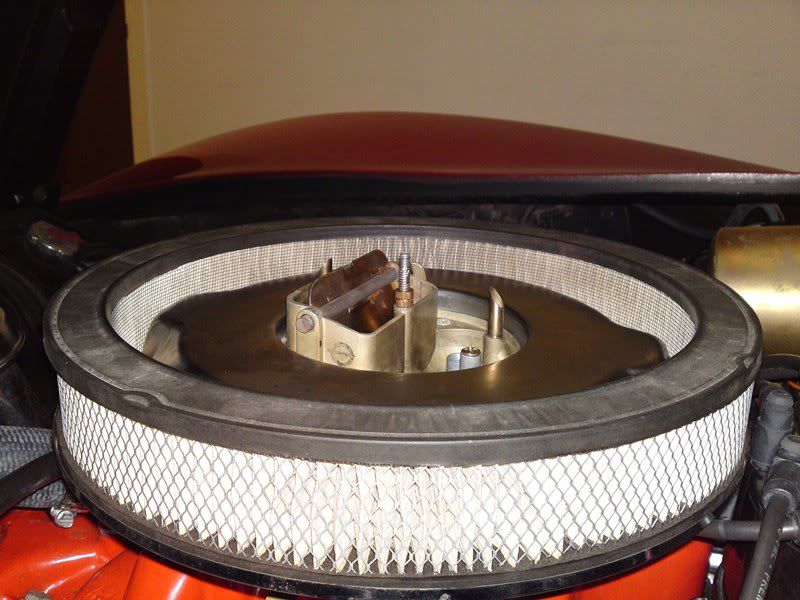 So what I have come up with are three possible options:
1. Find a carb with a main body that sits a lot lower so that it can get the airflow into it correctly (or get someone to mill down the choke tower and shorten the vent tubes)
2. Find a replacement intake for the 327 that is lower so that I use the extra room to add a higher airfilter to clear the top of the carb correctly.
3. Add a (short) big block hood to allow me to run a taller aircleaner (or one without a drop base on it).
So, does anyone out there have any suggestions, recommendations, or something I haven't thought of yet?
Cheers,
Azza
Of course I've always wanted to put a C2 style stinger on a C3 like this but that is way off in teh future.