Moderators: DOC, MR.WOLF, australi, smackC4
*Gold Class Member #777
Posts: 3696
Joined: Sat Jun 21, 2008 12:41 pm
Location: Rocky QLD Australia
---
* Founding Administrator
Posts: 16534
Joined: Sun Jan 15, 2006 8:32 pm
Location: Brisbane, Queensland, AUSTRALIA
Contact:
DOC wrote:No, they don't just lever off, Unless you like breaking things.
Fair enough - didn't realize that; I withdraw my comment
---
*Gold Class Member #777
Posts: 3696
Joined: Sat Jun 21, 2008 12:41 pm
Location: Rocky QLD Australia
Thought I should add a tip or two on installation.
Install your panel onto the top first, engaging it properly so it Hooks onto those edges.
Next I line up the upper left screw hole, You can look through the hole in the panel with the help of a torch and see the hole in the door for the screw. Once you have that one in. the right upper screw should line right up.
Window crank and lock knob just "Snap" back on. Once you have put the clip back into position of course).
Now, the first time I did this, I spent a fair bit of time trying to figure out how to get the door release lever back on. It won't slide back into the track unless it's in the open position.
So for this you will need 2 very special tools.
A medium big screw driver, And a big screw driver
Also known as G.M. Special tool number 67654369905326897532569.
Take your med. big screw driver and engage it into the channel track and use it to raise the mec into the open position. Like this.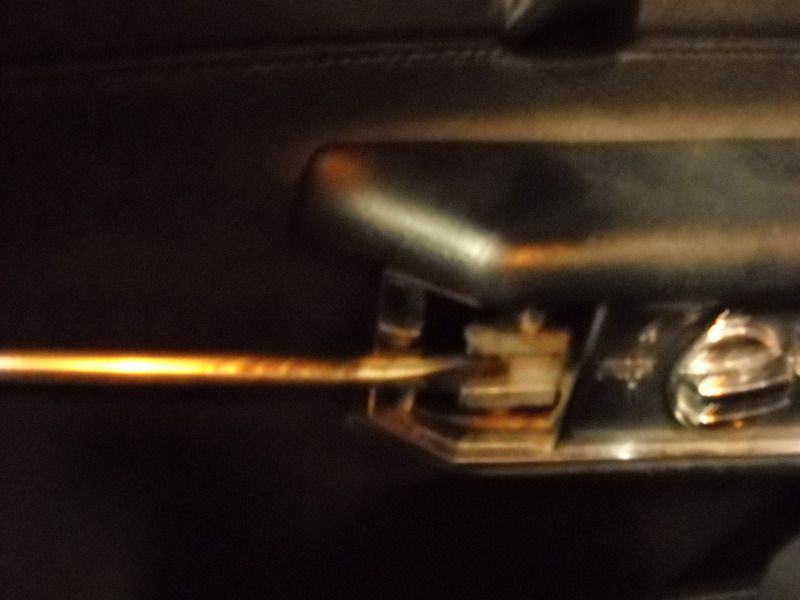 Then take your big screw driver, And wedge it behind the mec to hold it open, Like this.
Then you can slide your lever onto the track, Now as long as you don't drop the screw down into the door panel, your home free.
Cheers.
---
---
Return to "General CORVETTE Technical and Performance"
Who is online
Users browsing this forum: No registered users and 2 guests